Construction procurement is the action of obtaining products and services to meet a customer's need, while focusing on the value proposition and the total cost of completion. This occurs in every industry countless times per day. Many industries have developed clear guidelines to streamline the process from scope of requirement, quoting or tendering through to order and delivery. While some industries have achieved acceptable levels of visibility throughout each process in the supply chain, residential construction lags behind most industries.
Custom home builder construction procurement today
Many custom home builders see winning projects using spreadsheets, prices lists or estimating software as procurement. Technically, procurement doesn't start until a project is won and something is purchased. The problem with pricing methods is the time between tendering for work from a home owner and signing the construction contract can exceed 12 months. The delay between pricing and fulfilment can put the project in jeopardy before it begins. There's a false and unrealistic expectation that trades, material suppliers and services will accept original emailed quotes dating back 12 months.
Once a construction contract is signed, the most important work starts. For custom home builders, a procurement process is required for well over 70% of the home construction. Most of the procurement requires quotes for supplying materials, supply and install (materials & labour) and services across 50+ job categories. In Australia, there's 20,000+ custom home builders and each has their own procurement processes, mostly passed down through generations. The most common method is to send an email to known trades and suppliers, attach plans and type "Quote this"! This action alone causes strain throughout the residential construction supply chain. Why?
The supply chain includes trades and service organisations, manufacturers, distributors, wholesalers and retailers – many are small, family-owned businesses. Starting the procurement process without a clear scope for thousands of builders increases the cost to serve builder customers. With limited or no visibility of the supply chain, accurate forecasts of materials and labour are impossible. While there are many factors driving supply shortages, a lack of best practice industry procurement practices is one of the major contributors. Without a united approach from builders and suppliers, the residential construction industry will continue to suffer from material and trade shortages and the consumer will continue to pay for these inefficiencies.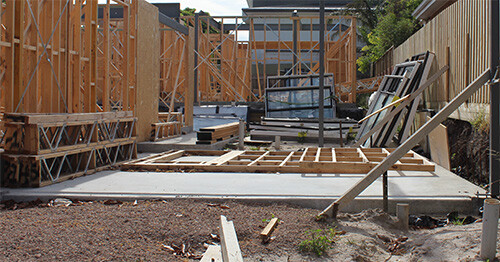 Disorganised construction site: Windows have been damaged due to delivery before roof.
What does a best-practice construction procurement process look like?
1 Accurate Scope of Work (SOW)
Best-practice procurement starts with an accurate Scope of Work (SOW), which clearly states the work to be carried out. Calling and waiting for responses is common in the industry. This back and forth process costs everyone, so the scope should provide sufficient information so recipients don't need to query the work description. This clarity reduces interpretation from suppliers and ensures everyone gets what they need. Builders should include;
The date of the works being completed, or at least a range.
The location of the project to be completed.
All documents required to complete the quote. e.g. engineering, soil test, energy reports.
The method of work required, e.g. do you want materials only, or supply and install.
The quality of the workmanship, products and any other services needed to complete the job.
The coordinates within the project where the work is to be carried out.
Product or specifications required for a job.
How you want the job quote submitted, e.g. per home, exclusions, variations, etc..
2 Matching suppliers to invites
Traditionally, invitations from builders are sent via email into their supplier's email inbox. The trades and suppliers are selected based on previous relationships. Once sent, unless there is a follow-up call, there is no way to know if the quote invite was received correctly, understood or accepted. In many cases the project does not suit a supplier's business. Not to lose face or damage a relationship, a supplier will spend time quoting the project, knowing they won't win the work. This is costly to the industry. 
After the Scope of Work has been developed, best practice regarding quote invites includes only including suppliers that match the requirements, can service the location, want the work, and confirm if they are planning to submit a quote. Having access to a broader range of unknown suppliers promotes more choice and competitive quotes.
3 Reviewing quotes side-by-side in one location
As stated, quote reviews should focus on the value creation and the total cost of completing the project for the future homeowner. With every supplier quote formatted differently and buried in email history, it is important to take the time to review each quote and attachment to ensure it meets the SOW. In the past builders have had to save quotes into folders and print them for a detailed review. This proves too hard so purchasing decisions are often based on jumping to the quote total.
Today, builders don't have to rely on email or printing. Quotes can be reviewed digitally, side-side with all attachments, inclusions and exclusions on one page, ready for orders to be scheduled.
4 Signed digital job orders
Typically, confirming orders have been done by phone or email, yet verbal contracts without specifics are a thing of the past. With supply and labour shortages, last-minute ordering is no longer a viable option. 
With best practice, a builder uses a digital job order to lock in the price and supply of labour and materials as soon as possible for every job within a project. Job orders include the scope of work, all documents related to the job and are signed by both parties. Each will add its standard terms and conditions along with the estimated schedule. The job order provides a framework for potential variations, reconciliation, payment and future warranty requirements.
5 Automated scheduling and call-ups
As mentioned, there are thousands of business processes in the residential construction industry. The most common activity is the supplier's call-up phone call to the builder to confirm installation or delivery. On the surface, a call-up appears as a one-step process. Yet, all the events and activities for a supplier can be quite complex; involving tasks like onsite measures, customer selections and manufacturing, even before installation or delivery. As the project proceeds through its various stages, the scheduling process becomes more complicated and can be extremely costly for the supplier and builder if not managed correctly. For example, a window incorrectly sized off the plan will need to be replaced by a supplier, or delays cause onsite inactivity (grey days) which is estimated to cost a builder over $750 per day. 
A procurement best practice recognises all sides of a transaction are important and the process isn't complete until the Scope of Works objective and requirements are met by both parties. Automating all of the events and activities around job scheduling is invaluable to builders and suppliers and can be managed by software today.
Reconciliation and payment complete the construction procurement cycle. We can cover this complex process next time.

Construction management software tools
With the current material and trade shortages, builders have become more organised. Many have started using software tools in these categories;
Estimating: Used to calculate an estimate when tendering for customer projects.
Job management: For assigning and managing team tasks for various jobs in a project.
Accounting: It generates purchase orders, reconciles invoices, payments and project reporting.
All-in-one construction management: This is generalist software that helps with most of the tasks associated with a building business but doesn't have any advanced procurement features that truly connect the supply chain.
All-in-one construction management software relies on the builder to design the building process, therefore quote requests rarely include a scope of work. This causes unnecessary costs by putting most of the effort and guesswork back onto trades and suppliers. Invited suppliers are limited to organisations the builder has worked with. Unfortunately, this category of software doesn't employ a standardised procurement process across builders, even those using the same software.
While Buildxact, Buildertrend and other all-in-one construction management software provide excellent general building management functions, best-in-class procurement requires specialised features only possible with a connected supplier chain. Here's what's happening in this space…
New tools driving efficient construction procurement
Designed for residential construction by industry leaders, BuiltGrid is the first online procurement network connecting custom home builders and their suppliers while improving project visibility, communication and scheduling.
With the development of a multi-sided market network, the builder and supplier benefit from;
A clear scope of work that reduces follow-up and interpretation
Access to suppliers that suit the project and want work.
Quote submissions with value and exclusions are called out for the builder.
Use alongside all-in-one construction management software.
Structured job orders agreed by both parties.
Structured supplier scheduling reduces costs for all.
As greater compliance is pushed back onto the builder, having a clear process that is accessible at any time before, during and after the warranty period is important for the builder, supplier and consumer. BuiltGrid's multi-sided market network drives a focus on best-practice procurement and ensures the combined residential supply chain improves efficiency and housing affordability.